I am excited to share my new shop on etsy with you!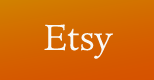 Etsy is an amazing website with vendors offering an incredibly variety of handmade goods. It is a beautiful and simple place to shop! You can still pay with Paypal, and the listings are fixed price (no bidding!) I also like it because the fees are much better for me as a seller. (
eBay fees were raised once again in March, which really hurts the seller)
Click here
to go see my new etsy shop!